About Us
Shirts directly from the factory to their new owner.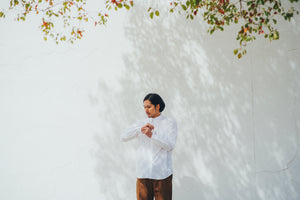 THE INDUSTRY WORKS is a shirt brand that uses Banshu fabric to carefully create and directly deliver shirts from our factory in Banshu. Even today, Banshu fabrics are endorsed by well-known brands around the world. We bring out the best in the fabric and incorporate it into our items. Each shirt is a unique piece that can be customized to fit your body, and feature the design of your choosing. As the owner of this cherished piece, you can bring value and a story to your everyday life.
Brand Story
The making of THE INDUSTRY WORKS
THE INDUSTRY WORKS creates Banshu woven shirts. The thread is first dyed, then woven in the "saki-zome" method, so that you can enjoy the beautiful color and high quality of the fabric. Our team of professionals takes on the process of design, warping, weaving, cutting, sewing, finishing, and packaging to create each shirt. We will continue to build on these detailed and careful techniques to create each shirt and deliver it to you.
Custom Order
We also offer custom-made shirts, tailored to fit your body
In addition to off-the-shelf shirts, THE INDUSTRY WORKS also offers custom-made shirts that fit your body and taste. You can select your favorite fabric and design and customize the body and sleeve length to your specifications. Pick out a shirt that will go with your work or private life.
Cloth & Size
About the development of Banshu woven fabric specialties and sizes
THE INDUSTRY WORKS fabrics are made in the Banshu weaving production area, and they are all high quality products. Our representative fabric is a poplin (broadcloth), woven from very rare superfine, extra-long 100-count double-ply thread with 160 threads per inch, from carefully selected cotton. In addition to experiencing the suppleness of the highest quality cotton, the fabric is made even more delicate and beautiful by using superfine textiles. This fabric is protected within the production area. Therefore, we are able to create newer and more beautiful shirts than anywhere else. The shirts are available in men's sizes S, M, L, and LL.